The Support System Behind the Thin Blue Line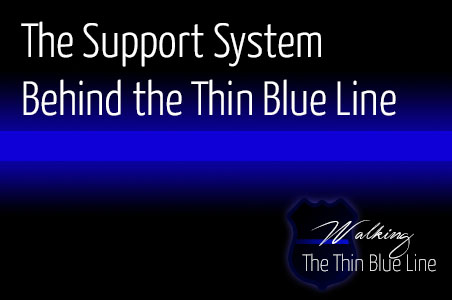 As Law Enforcement Families, there is something that connects us all: it is The Thin Blue Line. Our Law Enforcement Officers that we love are out there Walking The Thin Blue Line every time that they put on their uniform and start their shift, and for those of us who love them we are Walking that Thin Blue Line by supporting them in all that they do. While our loved ones are out there holding the line between good and evil, darkness and light, and protecting and serving, there are always those of us who are left at home awaiting their safe arrival once again. When our Officer first begins their career, they are made aware of the dangers that can face them on the streets that they patrol or the facilities that they are working in. They are trained to be aware of their surroundings, and taught of the hardships that being a Law Enforcement Officer can have on one's life and their family. The are aware through the oath's they take what the Thin Blue Line will mean for them throughout their career. It is my deep belief that it takes a very special person to be a Law Enforcement Officer, it is much more of a calling than a choice for most Officers. They are called to walk this Thin Blue Line everyday.
Loving a Law Enforcement Officer is not for the faint of heart, and no one can really prepare you for what it takes to be a Law Enforcement spouse or family. That Thin Blue Line affects you too, every Husband, Wife, Mother, Father, Child, Brother, Sister, or significant other of a Law Enforcement officer will tell you that it has an impact on them as well. However we experience it far differently than our Officer out on the streets does. Most of the time as families we experience it in the everyday sacrifices that others take for granted. Our loved ones miss out on so much that we would love to have them there for, holidays, birthdays, games, recitals, plays. . . the list goes on and on. We support them through shift work, trainings, being there for them to confide in and so much more. We sacrifice so many things with our loved ones who are officers for the greater good of the community, and sometimes in today's world it feels like a thankless act for the service they give and the sacrifices we make. Law Enforcement spouses quickly learn to be self sufficient and independent. We are the support system behind the Thin Blue line. Each of us who loves an officer knows it and feels it, we just experience it differently than those that we love the most who are out there protecting the streets.
Most of us only have to hear that someone else is a law enforcement spouse and on some level we feel as if we have known them for a very long time. Each of us knows that there they will understand so many things about our lives that others don't. Officers are connected through the knowing that other officers know what it is like to be on the streets, and the spouses of officers are connected through knowing what it is like to love a Law Enforcement officer and all that it entails. We are all connected through this Thin Blue Line, it touches each and every one of us.
I have felt very deeply for a very long time that there needs to be more support for Law Enforcement Families. We need to provide tools and resources to help Law Enforcement Families thrive through all of the challenges that being a Police family can have. To support and nourish the marriages and relationships of Law Enforcement. I have created Walking the Thin Blue Line to do just that. To bring Law Enforcement Families together from all walks of life to be able to provide support for them through classes, retreats, and conferences, and knowledge. It is my hope and prayer as a Law Enforcement wife that Walking the Thin Blue Line can provide a place of support to all Law Enforcement Families out there, to know that they are not alone, and that there are so many other families Walking this Thin Blue Line together.